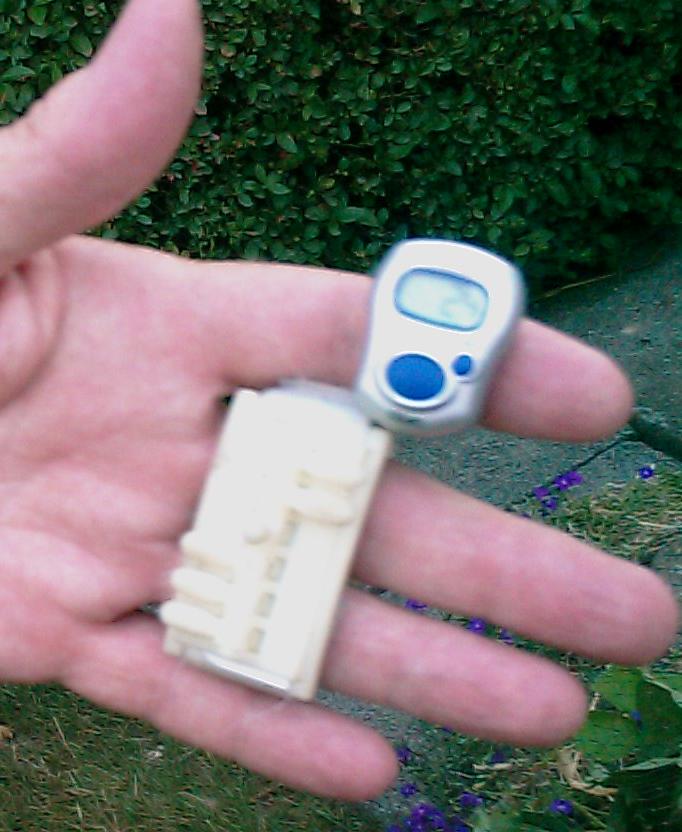 Feb 2007 electronic finger tally counter
Water Resistant to 3 metres - suitable for swimmers etc £9.99 inc worldwide p&p cheque with order.
The traditional, classic, white, 6-LEVER COUNTER in ROBUST NYLON at an affordable price
Once used, never discarded! £20 inc worldwide p&p
THREE YEAR warranty
Please specify wrist or finger preference for Velcro band.

The traditional, METAL 6-LEVER COUNTER is still occasionally made in small batches made when sufficient orders – new stock Feb 2016 - £80 inc worldwide p&p

We also buy and sell secondhand ones.
send us an email to place an order or to sell your old one
Ball, Over & Wicket Counter manufactured by Gray-Nicolls. 4 plastic thumb-wheels, 1 for Wickets, 1 for balls and 2 for overs but no mechanical link between them. Fits in either hand. £ 8.50 £ 0.75 UK p&p
SIMILAR manufactured by Readers
EXCEPT that it has no black printing
£ out of stock (Dec 2015) + £ 0.75 UK p&p
Ball & Over Counter originally manufactured for Hunts . 3 plastic thumb-wheels, 1 for balls and 2 for overs but no mechanical link between them.
Shaped to fit snugly but upside down in left hand.
NOW MADE BY Readers £ 5.95 + £ 0.75 UK p&p
Tally Counters (choice of plastic or metal see also 2007 electronic model on finger strap above with lever counter
in all models, check on the scores (Law 3.14) - keep in pocket or hold in hand - ideal for practice games / coaching
just press each run (up to 9999, enough even for West Indies!) easily reset

Metal Cylindrical
with metal loop to fit over finger.
£ 9.95 £ 3.00
ALSO desk mounted singly or in a bank
(please ask for details)


Plastic Black bullet
with short string loop (to go round fingers).
£ TBA
New stock not expected before August 2016

2004 electronic counter E2
with neck strap or wrist strap.
Neck strap £ 4.95 £ 3.00
Wrist strap £ no stock £ 3.00
You can convert Neck to Wrist
by carefully undoing four screws
adjust length to suit.